Semnox Parafait
Parafait was created by semnox to automate operations of amusement parks, theme parks, water parks, resorts, family entertainment centers, F&B and merchandise outlets, health and sports clubs, and other businesses. Parafait features access control systems, RFID based cashless payments, CRM, online bookings, multi-site operations, thru centralized cloud management, locker and rental operations are all executed thru your own servers.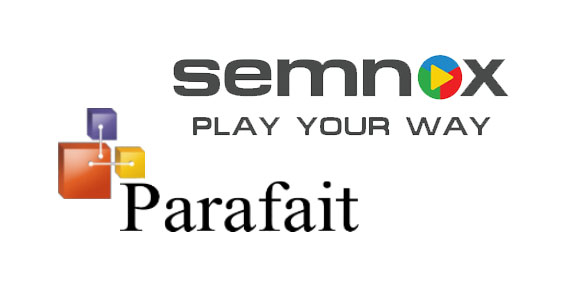 Access and Ticket Solutions
Access Control System
Fully functional Access control system gives total automation and crowd control to a Park. These not only control the crowd but also give very accurate information on number of entries, exits and the time spent by the guest inside the park
Entry Ticketing
Semnox's Ticketing Sales Solution is a robust software for amusement industry, allowing high volume visitor's access control very efficiently. Solution is flexible to handle the ticket in various forms including RFID cards, barcodes, wristbands etc
Online Booking
With parafait's online offering, you can allow customers to recharge their accounts, buy tickets in advance, look at their activities, all in the luxury of their home.
Cashless Payment and Amenities
Self-Service Kiosk
A fully loaded futuristic kiosk with a perfect balance of design, technology, and utility. check transactions logs, re-load cash and update account in one machine.
RFID Bands and Cards
The Semnox parafait systems uses RFID technology. this gives the parafait its versatility making it more adaptable to the customer and also making it environmentally friendly due to re usability.
RFID Lockers
State of the art locker systems have now become a must for a good outdoor facility. the customer will have a lot of ease in storage and access of personal belongings using RFID bands.
F&B and Merchandising Solutions
Point of Sales (POS)
Semnox parafait PO is a very powerful yet simple to use software. its state-of-the-art design helps the pos operator to perform operations efficiently. it also connects to kitchen display system for order preparation and delivery.
Digital Signage
The digital signage solution is a very cost-effective way to display the menu, as well as, to advertise.
Inventory Management
Ezee inventory gives you complete control of the inventory management. the system has full support for purchasing, receiving, as well as, costing.
Mobile Order Tracking
A simple and convenient way to take orders that are posted directly to kitchen through KOT printer or KDS system
CRM and Loyalty
Parafait offers state of the art CRM functionality which includes promotion and loyalty management, tier based membership programs and corporate guests programs.
Multi-site Cloud System
The cloud technology offers new opportunities for multi-site operations. manage your prices, products, and monitor your branches from a single location.